We happened upon The American Eagle Foundation quite by accident. We are actually camping at Bear Cove Resort, which is right up the street from this hidden gem. We took the dogs for their usual walk one morning, and decided to turn right instead of left out of the campground. The next thing you know, we're exploring up a side street when we come upon the sign for The American Eagle Foundation, and it says that they do tours! SCORE!! So as soon as we got home, I looked them up on the internet at Eagles.org, and made my reservation for my FREE tour! You have to make your reservation for a week in advance, so we were all set up for the next Monday.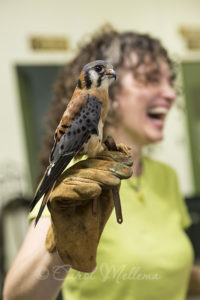 The American Eagle Foundation is located in the foothills of the Great Smoky Mountains in Tennessee. They area 501(c)(3) not-for-profit organization dedicated to protecting and preserving the majestic Bald Eagle and other birds of prey. Their motto is "Educate, Repopulate, Rehabilitate". You can see them perform the "Wings of America" Birds of Prey Show every day at Dollywood Theme Park. But getting behind the scenes at The Foundation Headquarters (located outside Dollywood theme park), was the real treat! The Headquarters houses AEF's non-releasable birds (due to injury most of the time) and trains them for educational purposes. It's also a place to rehabilitate sick or injured birds, provides breeding enclosures for Bald Eagles and Golden Eagles, incubates the eggs for later release into the wild, and houses all of AEF's administrative offices.
On the tour you will get to meet Challenger – the bald eagle rescued at a young age after he had fallen from a nest in Louisiana. Challenger now has a permanent home at The American Eagle Foundation, and has the very important job of being a free-flying Eagle in stadiums and sports arenas during the playing of The National Anthem. We did get to see Challenger free-fly back and forth between 2 of our hosts, and it was very majestic!! We also got to meet other birds of prey that are housed at The Foundation, including owls, kestrels, vultures, falcons and hawks.
All in all our visit to The American Eagle Foundation was a lot of fun, very educational, and quite inspirational! I would highly recommend this (FREE) tour to anyone wanting to learn more about Eagles and other birds of prey. They also have live Eagle's nest webcams, which you can visit on their website. Just click on the "Nest Cams" link. Since they are a non-profit organization, they run on donations from the public. You can donate here or shop their store here, where all merchandise purchases help out the foundation as well.